The Urban Saunters guide to what you can expect when you tour the war rooms.
A tour we think you'll love
History will be kind to me for I intend to write it – Winston Churchill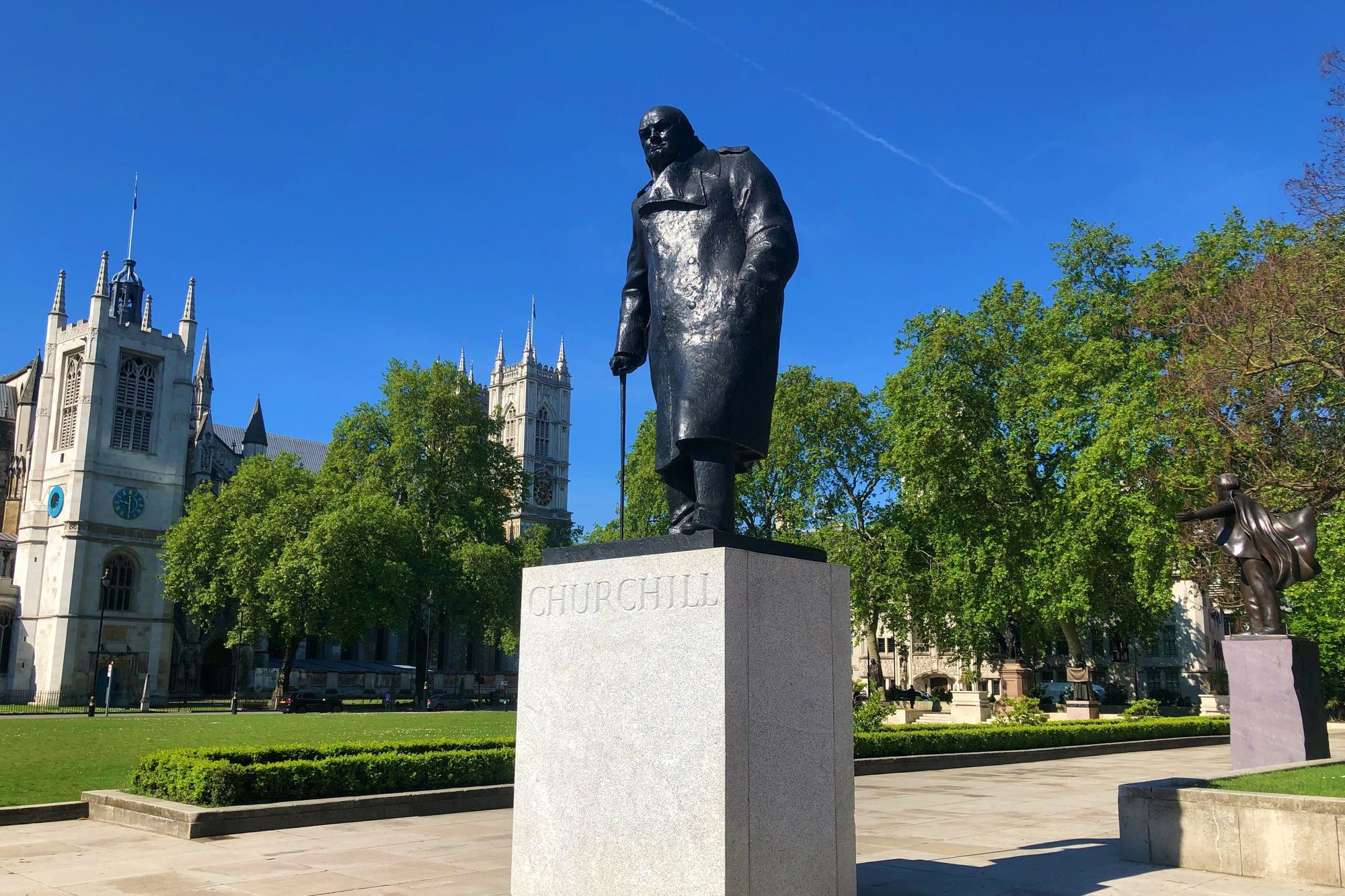 Located under the heart of London's political district near Big Ben, the Houses of Parliament and Downing Street, the Churchill War Rooms served as the underground bunkers where plans were laid to repel an invasion of Britain by Germany during the dark days of WW2 – named, of course, for the man himself Mr Winston Churchill, the prime minister who would guide the country through the darkest of them.
Still consistently named as a British icon, his legacy has not been without controversy. But whatever you think of the man himself, that he was the strategic leader the country needed at that time is almost without question.
Let's get one thing straight though. Churchill's War Rooms, these epic bunkers frozen in time, are big. Like, 9100 square feet big. So, read on dear saunterers to find out what you can expect (and how you should plan) when you tour the war rooms.
First, a brief history on the Churchill War Rooms
Designed to be a secure location for the British government so that it could continue to operate during air raids, it lies under Whitehall – the road of the ministries and the main artery leading to the Houses of Parliament.
Opened in 1940, this would serve as the establishment's nerve centre with decisions being made down there – even with no natural sunlight and limited fresh air – that would make or break the country's military reputation and the people's morale.
Having served their purpose, the war rooms were abandoned, left untouched and suspended in time until the 1980s when the public was invited to come and marvel at this unique time capsule. To take a peek at this snapshot into one of the major turning points, not just for British history, but for the world too is a London must-do.
But what can you see on your ar Rooms tour?
If you're expecting just dusty old radios and seriously outdated maps, then you're going to be pleasantly surprised. And if you think 'war museums aren't for me', you may want to think again.
Churchill's bedroom, the Map Room and the Transatlantic Telephone room, but you'll find seriously snazzy interactive displays drawing you into the long and fascinating life of Winston Churchill himself – born at a time of horses and carts and living right through to man stepping foot on the moon for the very first time. You'll see his baby rattle, his cigars and even the bowler hat he was rarely seen in public without.
But this is not just the story of one fellow.
You'll also get a closer look at the reality of everyday life for the men and women who slept, ate, worked and lived down here in the Churchill War Rooms (not that it was known as that then) as the bombs rained over the city up above. The emotive use of archival footage from the summer of 1940 only serves to spotlight the tension and duty to the country these people would have felt.
The war room tour is not just for military history buffs – it's for anybody enthralled by stories of the indomitable spirit of humans and their desire to endure, against all the odds. It's a chance to pay tribute to those without whom we might never have made it through.
Hey, it's even served as a film set. Where else would you shoot the academy award-winning, Gary Oldman-led 'The Darkest Hour'?
What are some top tips for your War Rooms tour?
Now we're not just saying this because we're a tour company who offers some rather brill experiences that access the Churchill War Rooms (though we do, and you can find them here and here) but if you are planning on going independently, it is well worth booking in advance. Particularly during peak season, the war rooms can be quite crowded and without pre-booked tickets, you might be waiting in line for a rather long time to even get in.
The other top tip from US involves the many miles of bunkers here and the fair amount of steps to get down to them (though there is also step-free access at a different entrance and wheelchairs available too). Forget about stylish shoes and go for your comfiest instead. Though to be fair, we'd suggest this for any walking tour really… we Londoners like to walk. A lot.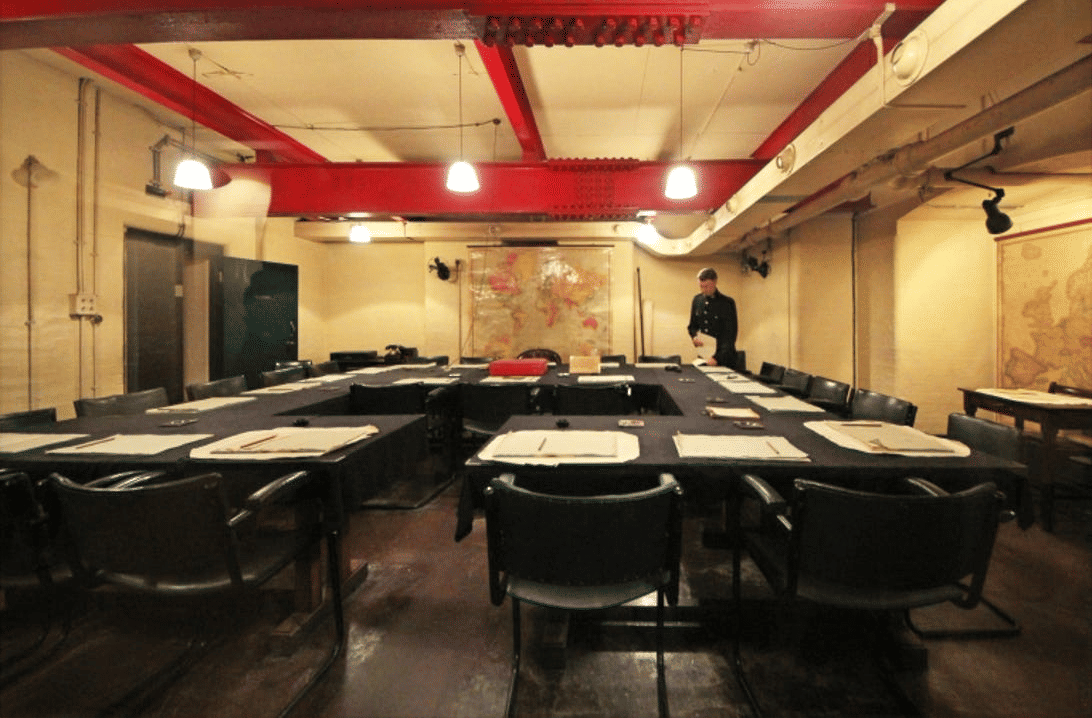 Buckingham Palace or Big Ben it may not be, but we truly believe that Churchill's War Rooms are an absolute must-visit when checking out the best of London's historic attractions – they've got everything. Drama, romance, war, peace and some of Winston's stylish suits from the 40s to ogle at.
Whether sauntering solo or sauntering with US, make sure touring the war rooms is HIGH on your London list.
Some reviews from previous saunterers on our Westminster in WW2 & Churchill War Rooms tours to whet your appetite:
'It was an absolute pleasure to have Nathan as my guide, and I really appreciate the time and effort he puts into making the tour so informative and engaging.
The way he brought the history of World War 2 to life with his stories and anecdotes was truly impressive, and I thoroughly enjoyed learning about the events and places that shaped the course of the war in London. His deep knowledge of the subject matter was evident throughout the tour, and I appreciated the way he was able to provide context and background information to help me better understand the significance of each site we visited.'
– Andrii G on Tripadvisor.
'Richard obviously loves the topic and shares so much history and government enthusiastically throughout the tour. He was patient with our group of 5, aged 15-71'
– GetYourGuide traveller, USA
This tour was absolutely fantastic!!! Our tour guide was just fantastic! He took a ton of time to explain things in detail and answered loads of questions for us. The pace of the tour was just right and we easily kept up with him. He took a lot of care to ensure we stayed together and with him, even amidst lots of bigger crowds. The tour stops themselves were just fascinating and with all the commentary our guide offered, it was so educational and FUN! We loved every minute of this tour and highly recommend it!
– Madeline on Tripadvisor
'Francis was my guide and was truly amazing. He really tailored the tour to our interests and answered our questions with a thorough knowledge base of the time and the area! Highly recommend
– Glenn on GetYourGuide
The fast facts about the War Rooms:
9:30am to 6pm daily, last entry at 5pm.
Adults from £27.25
Clive Steps, King Charles Street, London, SW1A 2AQ